World Champion Service
At Nick Varner Cues & Cases our goal is to deliver a level of service you would only expect from the very best.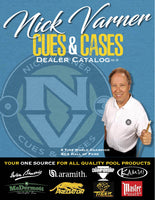 Our catalog includes everything the most discerning of billiards players ever wanted. The fastest and most up-to-date way of checking items and prices is by signing in now.
Wholesale Sign in