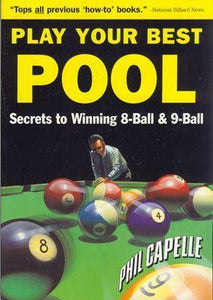 Play Your Best Pool "Tops all previous 'how-to' books" on pool according to the National Billiard News. Here's why: It offers you a complete course on pool with hundreds of secrets, strategies, and perfectly drawn illustrations that will help you to improve all aspects of your game - whether you are a beginner, top amateur, or even a pro.
Forty photos demonstrate the correct stance, bridge, grip and stroke. Next is a complete course on aiming followed by a big chapter on shotmaking that shows you how to pocket cut shots, banks, combinations, billiards, and carom shots.
The lessons on using english will prepare you for a comprehensive course on play that will teach you how to control the cue ball like an expert play. Subjects covered: the position routes you must know, fine points of position play, and Capelle's 22 Principles of Position Play (which alone are worth far more than the price of the book).
Your success at 8-ball and 9-ball depends on your knowledge of each game. In two big chapters (packed with over 170 illustrations) you'll learn all about offensive and defensive strategies. In addition, your game will benefit from solid advice on kick shots, safeties, pattern play, break shots, and much more.